Our Inverted Auto-Open/Reverse Folding Windproof Umbrella with Double Layer Canopy voted Most Useful Product!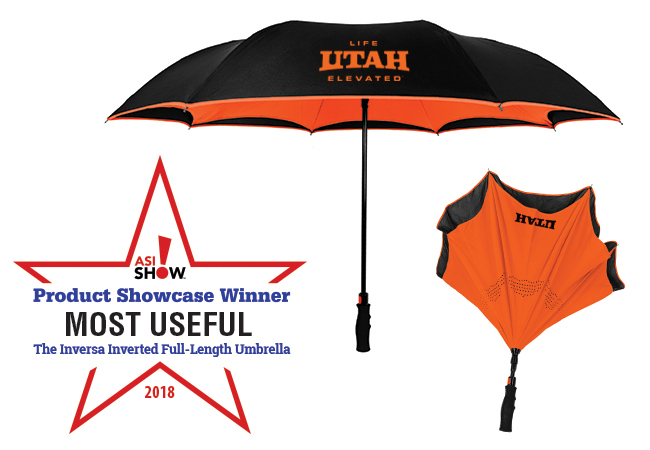 The accolades just keep pouring in for our remarkable SB-4600 Inversa Inverted Umbrella, as it was voted "Most Useful Product" at the 2018 ASI Show in Orlando!
Thousands of distributors reviewed hundreds of new products and were asked to select their favorites. The auto-opening/reverse-closing Inversa immediately got their attention. The Inversa's ingenious double layer canopy closes in the opposite direction of traditional umbrellas. You'll stay dry when entering your car or home doorway, while also protecting your floors and car interior from dripping wet umbrellas.
The Inversa is available in several vibrant two-tone color combinations plus classic solid black. Everyone who sees one wants one!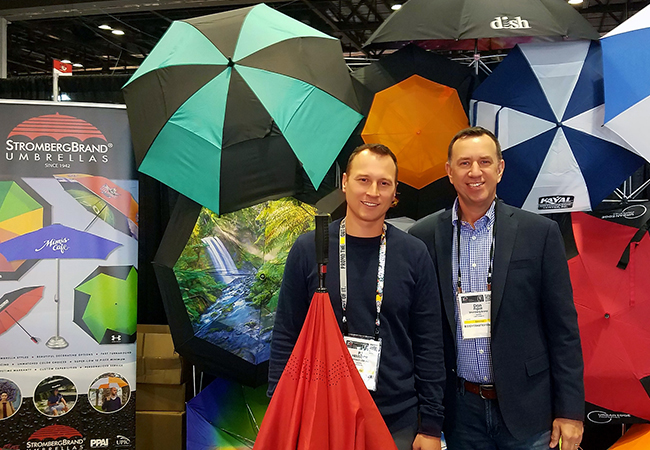 With all-fiberglass construction, it is lightweight, flexible, and rust-free. Ample coverage is provided by the 48" arc (approx. 39" open diameter). It opens quickly and automatically at the push of a button. During the manufacturing process, precision lasers create tiny wind vents in the under-canopy that combat wind damage to the canopy. Sixteen sections of waterproof 'Pongee' polyester are cut by hand and carefully sewn for a perfectly tailored fit to the frame.
If you haven't seen this amazing umbrella in person, be sure to contact us for a sample today!